10 Fun Facts about Giant Pandas
10 Fun Facts about Giant Pandas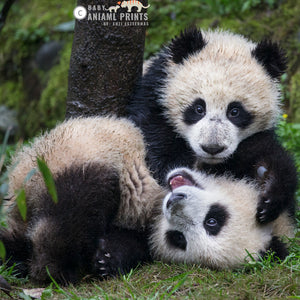 In Honor of National Panda Day - March 16, 2020 we have:
10 Fun Facts About Giant Pandas
Giant Pandas are categorized in the bear family but are the only bears which do not hibernate.
Pandas don't hibernate because they can't store fat.
Because Pandas can't store fat, they eat about 14 hours a day.
Giant Pandas can eat up to 40 pounds of bamboo a day.
Giant Pandas weigh around 4-6 ounces when they're born.
When full grown, Pandas can weigh up to 350 pounds.
Pandas are "talkative" and can make 11 different, distinct sounds.

The front paws of a Giant Panda are very different from other bears due to a special bone found in their wrists. Their sixth toe, an opposable thumb, is used for grasping bamboo. They use this bone in the same way humans use their thumbs, mainly for grasping food.

Giant Pandas have lived on earth for 2-3 million years.

There are less than 1,600 wild Giant Pandas left in the world.
Help the Pandas!
We have a couple EASY ways you can support the Giant Pandas.
1 - Buy "Panda Opposites" by Suzi Eszterhas. This book is a fun way to get young kids excited about Pandas. A portion of the proceeds benefits Pandas International.


2 - If your little one gets as excited about Pandas as this little lady did - you can raise "Pennies 4 Pandas". Visit Panda International's Pennies 4 Pandas page to learn more! Be sure to tag @babyanimalprintsbysuzi in any Social Media posts you might do for this!