The Creative Process of Illustrating For Children
The Creative Process of Illustrating For Children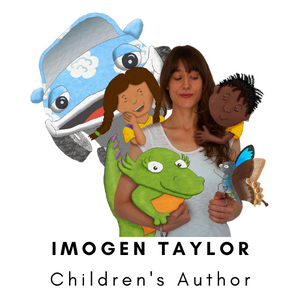 British children's author, Imogen Taylor, talks about her picture book creation process and reflects on how her books have helped her deal with her anxiety.
I taught myself to digitally illustrate after deciding that I wanted to create picture books to inspire children to help protect our planet's wonderful wildlife. My stories are always fun planet-saving adventures where the wildlife comes out on top. I really do believe that if children fall in love with wildlife they will grow up wanting to protect it. They'll grow up to be the champions of the natural world! 
The main protagonists in my books are the POWEs - the Protectors of Wildlife Endangered - two children, Immy and Jonny and their campervan, dragon and butterfly. They are definitely champions of the natural world. 
My Story process
Like most people who create stories I'm heavily influenced by what surrounds me. My love for the natural world shapes how I spend my time - scuba diving, hiking, camping, just being in wild places. I also watch a lot of nature documentaries which teach me about the problems our planet is facing. These things swirl around in my mind and then stories spill out.

First, I throw all of my thoughts out of my head and onto paper. I type the story eventually but for the longest time I write and rewrite in pencil in a notepad. 
The outline for the story often happens without too much effort, usually whilst I'm on a long walk in the woods. I rarely talk when I walk, I just get lost in thoughts. Then I imagine the story  unfolding in a picture book. Picture book pages are printed on large sheets which are folded, then cut, then glued to the spine of the cover. One sheet of paper folds up to make 16 pages (this is called a signature). Picture books generally start with 2 signatures (32 pages) and they then increase by half signatures of 8 pages if you want to increase the page count. It's actually quite hard to fit a story into that many pages whilst also setting it out so that you don't reveal too much on a particular page - the reader has to turn the page to find out what happens next.
The final wording of the story comes about later. First I sketch out thumbnails for each page. With a picture book it's always better showing something with an image rather than saying it with words. The ideal word length for a picture book is around 500 words. I often wish it was more, it's much harder than you think to write a story with so few words.
When I have the thumbnails sorted I then write the words. Only as a rough at this stage. I then like to create the illustrations - my favourite bit. The words often get edited as I create the image, when other ideas hit me on how I might be able to show what I'm trying to say, rather than write it in words.
My Illustration Process
I draw the image traditionally and then scan it into my computer to colour it in Photoshop using my Wacom tablet and pen.
I then colour the image, building up the colours and the textures in separate Photoshop layers. Depending on how I feel or what it is I'm colouring I sometimes like to paint part of the image traditionally in watercolour paint or even pastel crayons.
This is an example of how an image progresses through those layers, from my book, The POWEs and The Disappearing Tusks. On this double page spread I wanted to capture the energy and silliness of the elephants dancing.
I sketch out the whole image on watercolour paper even if I'm not planning on painting it traditionally because the paper gives a nice texture to digital painting. I then scan it into my computer. You can see here that the paper is actually quite tatty by the time I scan it.
Once I scan the paper into the computer I colour everything with flat colours, keeping the background, foreground and characters on different layers. On this image I actually painted the trees, grass, sky and baby eles by hand before I scanned the image.
After I've painted all the colours I create the texture layers. This is a really fun part! I create different textures using all sorts of materials that I photograph and scan into the computer - the rhino and elephant's skin is made from a very worn leather jacket but with the elephants I also added a layer made from crinkled paper. 
Now I add the the highlights and shadows onto the characters. I love this bit of creating an image because it's when it becomes 3D - the characters really pop by adding just the right amount of shade and light to make their form take shape. 
The final tweaks of adding shading to the background anchor the characters to the floor (apart from Shu in this case - she's flying through the air) and also add depth. At this point I also any little extra bits, like tufts of grass or flowers. Then of course the final step of adding the text to the page.
Here are some of my other completed illustrations: 
I wonder if many of you experience anxiety. I know I certainly do. I think with the uncertain world we are living in at the moment more of us are feeling anxious than ever. One thing that always helps me deal with anxiety is creating my illustrations and stories. It allows me to be completely in the moment.
Creating my books has also allowed me to support wildlife conservation, and making that difference to the lives of other creatures, even if only a small difference, apart from being a wonderful thing in itself, is incredibly rewarding and has made me very happy.
My creativity is what helped me deal with the terrible bush fires that happened in Australia, where I now live. Feeling very distressed about what was happening to the wildlife, my friend and I set about creating a range of homewares products, called Wild Wares, that supports Australian wildlife as well other wildlife around the globe.
Perhaps you can create something to help wildlife too!
To find out more about Imogen's planet-saving children's books, visit her website HERE!
Imogen donates 20% of the profits from the sale of her books to wildlife conservation, so even getting one of her books helps wildlife!