Gifts that Give Back for Animal Lovers
Gifts that Give Back for Animal Lovers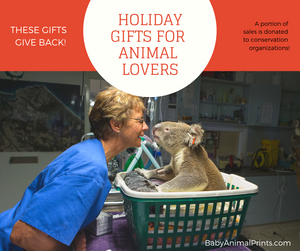 If you are looking for the perfect holiday gift for the animal lover in your life, why not choose something that's not just adorable, but that keeps on giving? With the purchase of every item on this list, a portion of sales is donated to a wildlife conservation organization. It's a win-win, two gifts rolled into one. 
The beneficiaries of these products are all listed here. Love sloths? We've got you. Orangutans more your thang? We have it covered. If you'd like to learn more about these wonderful organizations, click on their names. Or, to purchase these items, click on their images. 
The Sloth Conservation Foundation (SloCo) was founded in 2016 by sloth researcher Dr. Rebecca Cliffe and is dedicated to saving sloths in the wild.
Founded in Namibia in 1990, Cheetah Conservation Fund (CCF) is the global leader in research and conservation of cheetahs. CCF is dedicated to saving the cheetah in the wild.
Orangutan Foundation International
Orangutan Foundation International (OFI) is a nonprofit organization dedicated to the conservation of wild orangutans and their rainforest habitat.
The Alaska SeaLife Center is the only facility in Alaska that combines a public aquarium with marine research, education, and wildlife response.
The Koala Hospital is a licensed Wildlife Rehabilitation Facility devoted to koala conservation and care.
The Mara Conservancy is committed to working with local leaders, communities and partners to sustainably manage the Mara Triangle.
Print Sale!
If you would like some Baby Animal Prints for your nursery or to give as a gift, we have good news! Until January 1, 2019, all of our prints are 20% off. Plus, did you know that we donate 10% of all print sales to conservation organizations? Yep - these gifts keep giving!  Simply use the code PRINTS20 at checkout.