book
Sneak Peak! NEW BOOK 0
As a young girl, Suzi knew she wanted to be a wildlife photographer. But how did she go from snapping pictures of cats in her backyard to taking photos of cheetah cubs in Kenya? In this nonfiction picture-book biography, Suzi invites readers to find out what her life is like behind the lens.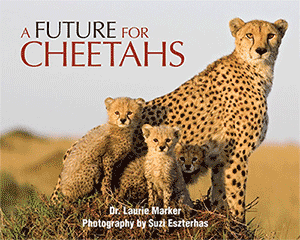 A Future for Cheetahs 0
Did you know that populations of cheetahs have plummeted from 100,000 to just 10,000 in Africa in the last century? This amazing animal is misunderstood and under threat. Suzi and Dr. Laurie Marker of the Cheetah Conservation Fund are working to change that; they recently collaborated on the coffee-table book A Future for Cheetahs. The book presents Suzi's rare and striking images of cheetahs in...